Mixing Materials to Make a Room Shine
"If it's not mixed, it's not modern" Macy's fashion designer said.  Now, she may be a fashion designer, but the world of fashion and home design go hand in hand.  In fact, friend and designer Carla Aston looks to fashion as a predictor for design trends.
It can be easy to get caught up in the rules of decorating, But sharing the do's and don'ts of design isn't my goal today. Instead, I want to encourage you to consider breaking out of your comfort zone.
If, like me, you were a teenager or older during the '80s when everything in fashion coordinated head to toe, and you bought furniture in sets, then this might be a stretch. I still have a tendency to color coordinate my clothes, shoes and accessories.
If you are uncomfortable with a new trend, why try it all? we might ask. I do not recommend going with the latest trends just because they are "in." But if you like the look of mixed metals or emerald green or white farmhouses, then go for it!
So, when I first learned that you could mix metals in jewelry and accessories, I had to start small. For instance, with pieces that did the mixing for me.
And just as my designer friend suggested, not long after mixing metals came on the scene in jewelry, I started seeing it in home design.
Look at this exquisite living room I stumbled across on Houzz.com the other day.
Silver and gold finishes complement each other perfectly in this space. The silver in the fabrics and on the carpet keeps the look from being overwhelming.
Let's take a look at another example.
To me, this kitchen is rustic elegance at its best. The copper surfaces together with the oil rubbed bronze fixtures lend a very warm glow to this space.
In kitchens and in bathrooms, we've always heard that everything should match, from the faucet to the hardware, to the mirrors and lighting fixtures…all of it. But this bathroom is a beautiful example of breaking the rules.
Oil rubbed bronze and brushed nickel are both warm metals and bring out the other textures and colors in this bathroom.
Oooooh, aaaaah! I love this home office.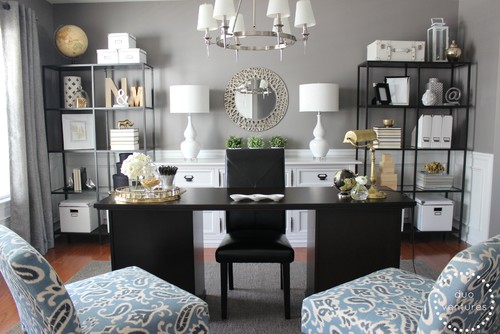 There is only a touch of gold in an otherwise silver and white room. But just those little pops seem to add a certain elegance to this home office.
Try to imagine any of these spaces without mixed metals. They would probably still be beautiful rooms, but I think it's the mixed metals that give all of them the "wow" factor.
I don't know about you, but I am truly inspired. I'm going to keep these rooms in mind as I go about trying to incorporate mixed metals in my own home. Of course, I don't have the budget to change out fixtures and accessories. I'm just going to use what I have, along with a little imagination.
Are you ready to try mixing metals?
The following two tabs change content below.
Hi! I'm Sharon, the blogger behind Mrs. Hines' Class. After 17 years in an elementary classroom, I decided to retire from teaching to stay home full-time. I've been married for almost 16 years and have a teenage daughter. My number one desire in life is to create a home for my family. I was born to teach and I love writing. I get to combine all of those passions in my blog, Mrs. Hines' Class, a virtual classroom where we celebrate home one lesson at a time. Whether it's creating memories, sharing recipes or conquering a DIY project, there's a lesson waiting for you. Thank you! Have a wonderful day.
Latest posts by Sharon Hines (see all)
Here are some more articles that may be of interest to you.